There's a lot of details and planning involved in tournaments. One of the questions comes up, what do we give the champions? Do we give a trophy to the flight winners? This past week we've worked with a couple of clients that show a great example of a consistent presentation in give-aways.
First is Blue Jack National. For their Annual AVM Golf Tournament, we used the tournament's logo as the main focus for their perpetual trophy, and for their champion awards. You can see how nice in looks on their prize 'table' (it's actually a custom made log bench that we sent them a few years ago).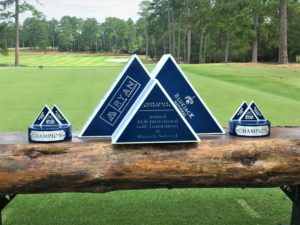 We've worked with Rib Crip Corp. for several years to make trophies fr their Pit Masters Tournament. Here's what we did this year.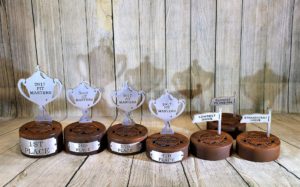 This was the first time that we worked with Desert Lakes Golf Club in Fort Movae, AZ. We worked closely with their gm in producing what he envisioned. We engraved their sponsor info on the top plates of the trophy bases.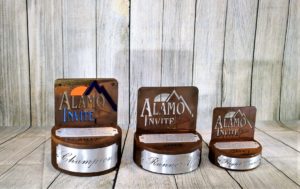 Last up for this post, is the annunal 'Swing & Sting' trophies that we have done the past few years for Victory Ranch in Utah.